"L'OTAN est une arme de guerre"/"NATO is a war machine".Special Report.
Les Insurgés citoyens & The Global Insurrectionist welcome you.





" French President François Hollande scheduled to meet American President Barack Obama today amidst Occupy Protests in Chicago, Illinois, during NATO Summit this week-end"
[Idioms: English - 中文 - Français - Español - Italiano - Português]
将以"准同盟"身份参加后日召开的北约峰会
蒙古国北约打入中俄间的"钉子"
[Chut ! Pékin n'ets pas content de la participation de la Mongolie au sommet de l'OTAN à Chicago, un "clou" enfoncé entre la Chine et la Russie...]
International News (Chinese)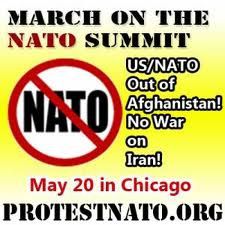 Follow us on Facebook : Appel à l'Insurrection permanente pacifiste, écologiste et citoyenne
Follow us on Twitter : @france_nouvelle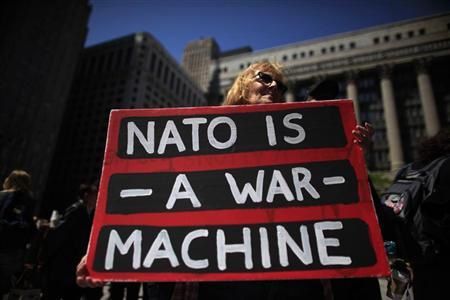 Anti-war protesters march at Obama campaign headquarters

(Reuters) - A small group of anti-war demonstrators staged a peaceful "die in" on Thursday at President Barack Obama's election campaign headquarters in Chicago to demand an end to the war in Afghanistan and unmanned drone aircraft attacks overseas.

Despite calling ahead, some of the roughly 50 protesters said they were unable to deliver a letter to the Obama campaign calling for the United States to leave NATO and its "violent mission of protecting the 1 percent in the global economy who represent 99 percent of corporate wealth in the world."

Reuters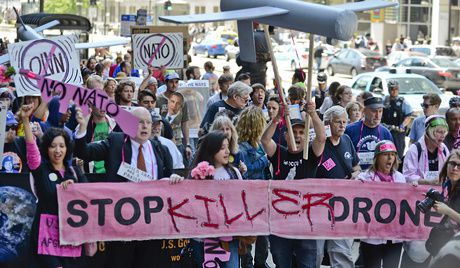 Chicago protesta contra cúpula da OTAN
Tags: ato de protesto, protesto, EUA, cúpula, OTAN, Comentários
Em Chicago, os ânimos de protesto são cada vez maiores, provocados pela próxima cúpula da OTAN a 20 e 21 de maio. Centenas de ativistas do movimento Occupy estão se dirigindo para a cidade.
A primeira vaga de ativistas, vindos de Nova Iorque, já chegou a Chicago. Espera-se a chegada de ônibus com manifestantes provenientes de Los Angeles, Washington, Portland e outras grandes cidades dos EUA. São esperadas cerca de mil pessoas. Para além do movimento Occupy, também outras organizações deverão se manifestar em Chicago. Assim, a chamada Coalizão Contra a OTAN, o G-8, a Guerra e a Pobreza está igualmente preparando uma ação de protesto (...)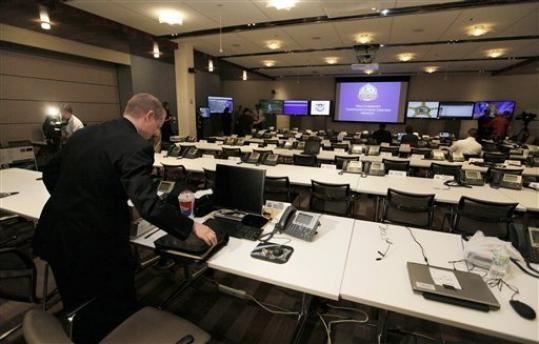 G8 and Nato summit: Chicago braces for Occupy protests

Nato's leaders will gather this week to try to yoke together their fractious alliance after more than a decade of war in Afghanistan. But outside the convention centre, on the streets of Chicago, another coalition faces a major test of strength.
By Raf Sanchez, Washington
9:08AM BST 18 May 2012

The Occupy movement will descend on Barack Obama's hometown intent on reasserting itself as a globally-heard voice for change. After months of setbacks and evictions - first from their spiritual home in Manhattan's Zuccotti Park, then St Paul's Cathedral in London and McPherson Square at the foot of the White House - Chicago offers a massive stage, lit by the cameras of the world's media.

"The media loves the story about Occupy dwindling but the truth is we're stronger than ever," said Rachael Perrotta, an organiser with Occupy Chicago. "These protests will only make us more cohesive and more powerful."

Thousands of protesters from around the US and the world are expected to take part, giving the Occupiers a chance to prove their relevance but also raising the spectre of widespread violence (...)

The Telegraph.u.k.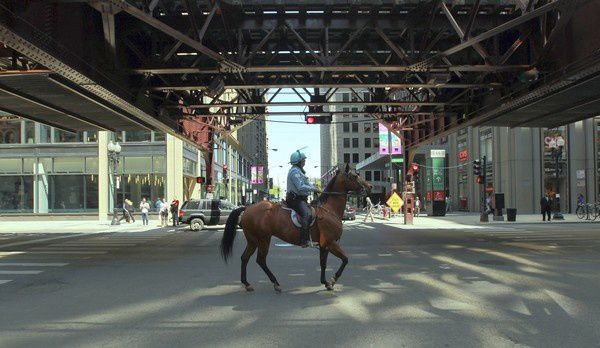 Nurses' pre-NATO rally expected to draw thousands

CHICAGO—Thousands of anti-NATO demonstrators are expected to converge at a downtown plaza Friday for a rally that promises to be a prelude to a much larger march Sunday, when world leaders begin two days of talks. Meanwhile, many office buildings will be shuttered after workers were told to stay home amid warnings about heightened security, snarled transportation and the possibility of unruly protests.

National Nurses United officials have said they expect about 2,000 nurses to attend Friday's rally, where they will call for a "Robin Hood" tax on financial institutions' transactions to offset cuts in social services, education and health care. But city officials have said the rally likely will draw more than 5,000 because of a performance by former Rage Against the Machine guitarist Tom Morello, an activist who has played at many Occupy events (...)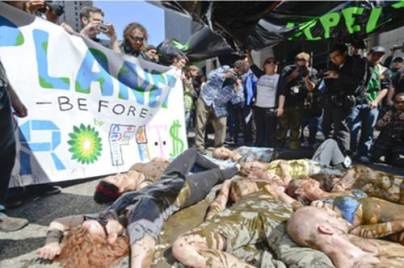 Hoy tienen prevista una manifestación
'Ocupa Chicago', a toda marcha en vísperas de la cumbre de la OTAN
Los 'indignados' de la Ciudad de los Vientos planean una serie de protestas para esta semana
Página Web RNV/Actualidad RT
16 Mayo 2012, 12:41 PM
Washington.- Cerca de un centenar de manifestantes marcharon por el centro de Chicago este martes en protesta por la política migratoria, militar y económica del país.
Para el miércoles está prevista una manifestación para demandar la imposición de una moratoria de un año en las ejecuciones hipotecarias.
Otra protesta que los organizadores creen que atraerá a miles de personas a la tercera ciudad de EE. UU. se convocó para el próximo domingo 20 de mayo, cuando arranque la Cumbre de la OTAN donde se abordará la estrategia a seguir en Afganistán.
Para resguardar esta reunión de dos días, la policía de Chicago ha invertido hasta un millón de dólares en dispositivos antidisturbios.
Entretanto, los activistas de Nueva York celebraron este martes 'El Día de Acción Global', en respaldo al movimiento español 15-M (...)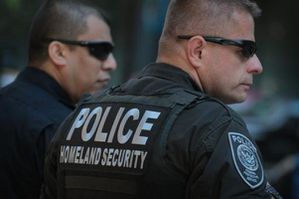 Nato/ Fbi: Nessuna minaccia terroristica seria su summit Chicago
'Ma restiamo in allerta: città è un possibile obiettivo'
Nato/ Fbi: Nessuna minaccia terroristica seria su summit Chicago
'Ma restiamo in allerta: città è un possibile obiettivo'
Chicago, 18 mag. (TMNews) - "Nessuna minaccia terroristica seria" pesa sul vertice della Nato a Chicago, che avrà luogo il 20 e 21 maggio prossimi: lo ha riferito la polizia federale americana (Fbi), il cui livello di allerta resta comunque alto. "Evidentemente, nel mondo post 11 settembre, Chicago è considerata come un possibile obiettivo dei terroristi", ha dichiarato l'agente Ross Rice (...)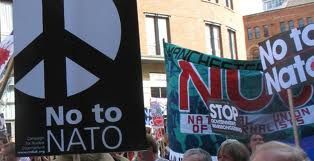 Publié le 17 mai 2012 à 14h13 | Mis à jour le 17 mai 2012 à 17h39
Les É.-U. réclament à leurs alliés un milliard de dollars pour Kaboul
Agence France-Presse / Varsovie
Les États-Unis demandent à leurs alliés des forces ISAF une contribution d'un milliard de dollars par an pour financer les forces de sécurité afghanes après 2014, a déclaré jeudi le chef de la Diplomatie polonaise Radoslaw Sikorski.
«Les États-Unis attendent de la part des pays participant à l'opération de l'ISAF une contribution d'une valeur d'environ un milliard de dollars par an», a déclaré le ministre lors d'une conférence organisée par l'Institut polonais des Affaires internationales à Varsovie, à trois jours du sommet de l'OTAN consacré notamment à cette question (...)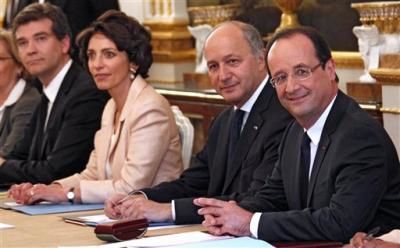 French leader faces likely NATO ire on Afghanistan
By JAMEY KEATEN Associated Press
Posted: 05/18/2012 12:31:51 AM PDT
Updated: 05/18/2012 12:35:16 AM PDT
WASHINGTON—For President Barack Obama's relationship with France, it's out with "Sarkozy the American" and in with Francois Hollande the Socialist.

Freshly inaugurated, French President Hollande visits the White House on Friday and plans to announce a pullout of all French combat troops from Afghanistan by year's end. That could infuriate NATO allies and embarrass his re-election-minded host—and may well be logistically impossible.

Hollande, who has little international experience, will have to muster diplomatic finesse for the political thicket he faces in the United States.

First, he must defend France's interests while building a relationship with Obama, widely popular in France but seen by some in Hollande's camp as having been too friendly with his predecessor, conservative Nicolas Sarkozy.

Second, Hollande must convince partners at the Group of Eight economic summit at Obama's presidential retreat, Camp David, that his insistence on rethinking a European austerity treaty won't send the region deeper into debt crisis.

And third, Hollande must manage likely anger at a NATO summit in Chicago over his planned announcement to pull France's 3,300 troops out of Afghanistan two years ahead of schedule. Analysts say this could set a bad precedent for France's new commander in chief and raise questions about France's willingness to keep its commitments to the alliance (....)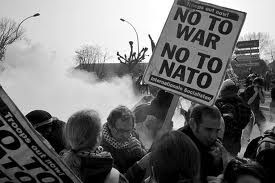 Les Insurgés citoyens / The Global Insurrectionist
Follow us on Facebook : Appel à l'Insurrection permanente pacifiste, écologiste et citoyenne (The Global Insurrectionist)





Full support to all OCCUPY, ANONYMOUS & INDIGNADOS the world over.
Follow us on Twitter : @france_nouvelle