Tibet : Why Tibet matters. No Free Tibet, no sustainable World Democracy.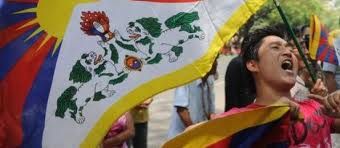 Editorial : On "Why Tibet matters" by Bianca Jagger in The Huffington Post
Why does Tibet really matter ?
To put it blunty, it is not only that "the very survival of the Tibetan people hangs in the balance" as Mrs Jagger has it today int he columns of the world-famous Huff Post ; it is, moreover, that our very survival as a free people enjoying democracy of a sort is damnly hanging in the balance.
Tibetans are NOT immolating themselves for religious or cultural matters.Yes, Tibetans are self-immolating for freedom, independence and democracy in their occupied homeland. They just want to enjoy the same rights as we do : to live freely and democratically in a free and democratic country without anybody foreign telling them what they are and that they are NOT; telling them what to think, what to believe and that they do NOT want to think or believe.
Human rights, sovereignety of peoples, freedom at large and, before all, what we pompously call "Democracy", are a farce without a Free Tibet. A farce and merely rubbish in a land of no hope and no future. As long as Tibetans are an endangered species we all are - the whole of humanity in this very respect is an endangered species. And there is only one way out: Freedom - Independence - Democracy. For All.
It has been our moto since the mid-90's when we were living in Dharamsala (H.P.) to maintain : no sustaibable Free World, no real and sustainable Global Democracy without a Free Tibet.
Correlatively, no sustainable Freedom in China, no real and sustainable Democracy in China without a Free & Democratic Tibet. The key is here. The future is in our hands.
And with this key one can open the door to a brighter future for the Whole World. Otherwise there will be no escape. For all of us.
A thousand thanks Mrs Jagger for your precious contribution. From the Heart.
Peu rangzen zangma yin ! Long Life Free Tibet !
The Global Insurrectionist / Les Insurgés citoyens

Follow us on Facebook : Appel à l'Insurrection permanente pacifiste, écologiste et citoyenne (The Global Insurrectionist) & Follow us on Twitter : @france_nouvelle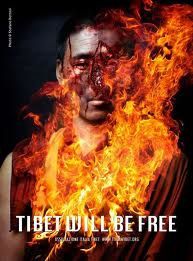 Excerpts of Mrs. Jagger's contribution to The Huffington Post (2012-05-14)
Bianca JaggerFounder and Chair, Bianca Jagger Human Rights Foundation
Why Tibet Matters
Posted: 05/14/2012 8:40 am
His Holiness the Dalai Lama is in London today to receive the Templeton Prize in recognition of his outstanding achievements and spiritual wisdom.
Tibet has a long-standing connection to Britain. Prior to the Chinese invasion in 1949-50, Britain was the only country to formally recognize Tibet as an independent nation. British representatives were stationed in Lhasa from 1904 to 1947 to liaise with the Tibetan government. In 1949 the newly-victorious leader of the China Communist Party Mao Zedong announced, over the radio waves, his intention to "liberate" Tibet from this "foreign imperialism."
Over the past 60 years, Tibet has been anything but "liberated" by the Chinese Communist Party.
On the 10th of May I delivered two reports to 10 Downing Street. The reports, by the Society for Threatened People and the International Campaign for Tibet, document the devastating impact of Chinese Communist Party rule in Tibet.
I appealed to Prime Minister David Cameron to support the Tibetans at this critical time in their struggle.
In recent months we have seen harrowing images and footage of Tibetans who have set fire to themselves as a form of protest. Since February, 2009, 35 Tibetans have sacrificed themselves, in an act of desperation, which emerges from the anguish of oppression. Tibetans who have self-immolated include monks, nuns, a 19-year old female student, a widowed mother of four, and a Tibetan reincarnate lama in his forties.
This is one of the most significant waves of self-immolation for the past 60 years, eclipsing the number of self-immolation protests by Vietnamese monks, those associated with the Vietnam War and the pro-democracy movement in South Korea.
The Vietnamese Buddhist monk Thich Nhat Hahn has observed, "To burn oneself by fire is to prove that what one is saying is of the utmost importance."
Although we do not know the last words of all the Tibetans who have poured kerosene over themselves and lit a match, we do know that most have died offering prayers for the Dalai Lama to return home, and for freedom in Tibet.
It is time for us to listen to what Tibetans inside Tibet are saying. It is time for the international community to listen to them and to act.
Over the past four years, the Chinese government has engaged in a comprehensive cover-up of the torture, disappearances and killings that have taken place across Tibet. They have engaged upon a virulent propaganda offensive against the Dalai Lama.
(...)
Why should Tibet matter? It matters because of the terrible suffering of its people, and because of the need for this ancient religion and the Tibetan cultural identity to survive. This is a culture based on the concepts of wisdom, compassion and inter-dependence. These are valuable teachings for the Tibetan people, and for the world.
The survival of Tibet is not just a moral issue. The country is situated in a strategic geopolitical position, between two nuclear giants, India and China. The future of Tibet is tied to Asian and international security.
Tibet is known as the earth's 'Third Pole', with the largest supply of fresh water in the world outside the two Poles. Most of Asia's major rivers have their sources in Tibet, meaning that development policies, damming and land degradation in Tibet can affect hundreds of millions of people elsewhere. China cannot claim that Tibet is their 'internal affair.'
(...)
In our letter to David Cameron, we urged him to lead a multilateral effort in support of Tibet. The UK government should coordinate its efforts with other like-minded countries and call on the Chinese government to review the policies towards Tibetans that are the root cause of the self-immolations, the ongoing tensions and unrest, and which are threatening the unique culture, religion, and identity of the Tibetan people.
(...)
The international community should engage in regular dialogue with Tibetan representatives, including the Dalai Lama and his representatives, and Lobsang Sangay, the new Tibetan Prime Minister in exile, to address the immediate crisis in Tibet.
I urge President Obama to take concrete steps to demonstrate his commitment to the fundamental human rights of the Tibetan people, and stand by his words of January 19th 2011, when he professed 'America's fundamental commitment to the universal rights of all people. That includes basic human rights like freedom of speech, of the press, of assembly, of association and demonstration, and of religion -- rights that are recognized in the Chinese constitution... Even as we, the United States, recognize that Tibet is part of the People's Republic of China, the United States continues to support further dialogue between the government of China and the representatives of the Dalai Lama to resolve concerns and differences, including the preservation of the religious and cultural identity of the Tibetan people.'
The religious and cultural identity of the Tibetan people is under threat in Tibet today. The Tibetans are standing up to the vast and expanding power of the Chinese state with nonviolent resistance through religious practice, song, literature, and even self-immolation. They are struggling to preserve their religion and cultural identity. As a consequence they are subjected to imprisonment, torture, deprivation and worse. Yet they persevere. Their bravery should serve as a call to action. I call upon the international community to act now on behalf of Tibet. Time is running out. The very survival of the Tibetan people hangs in the balance.
Bianca Jagger is Founder and Chair of the Bianca Jagger Human Rights Foundation, Council of Europe Goodwill Ambassador, Member of the Executive Director's Leadership Council of Amnesty International, USA, and Member of the Coalition for the International Criminal Court
Follow Bianca Jagger on Twitter: www.twitter.com/BiancaJagger
Read more : The Huffington Post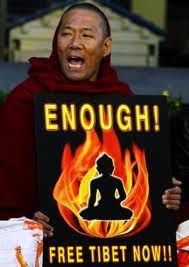 Follow us on Facebook : Appel à l'Insurrection permanente pacifiste, écologiste et citoyenne (The Global Insurrectionist)





Full support to all OCCUPY, ANONYMOUS & INDIGNADOS the world over.
Follow us on Twitter : @france_nouvelle