Chen Guang cheng : Lumineux et Sincère / 陳光誠: 有光有诚 !
Welcome to "The Global Insurrectionnist" (Les Insurgés citoyens) !

Follow us on Twitter : @france_nouvelle
Follow us on Facebook : Appel à l'Insurrection permanente pacifiste, écologiste et citoyenne
谈陈光诚事件的意义(余英时)
2012-05-08
陈光诚、一个盲人律师,逃出了山东临沂东师古村。他已被判了差不多4年多的徒刑,放回家以后,还没有任何法律根据,继续监管他,至少有5个人,外面还有几十个人、上百人,随时拦阻任何人去访问他。
所以,这个案子早就受到国际的注意,因为包括好莱坞的电影明星在济南拍摄影片,听说陈光诚案,他很同情,带了一堆人去东师古村,就被几十个便衣看护的人打回来了。而中间被打的人甚多,包括外交官、包括民运分子同情者,包括记者,都是说任何人不准见他。
在这种情况之下,现在很奇迹式地逃出来,他先翻墙,然后逃出村子,经过多少关卡,然后出了村子以后,才敢打电话跟预约好的何培蓉联络、从南京开车到山东附近等着他的,等到他电话以后,就把他送到北京。到了北京以后,还不能马上找到安全地方,还有许多民运人士、异议人士同情他、帮他忙,包括胡佳、包括艾未未。所以,他在北京有3天时间,都在不同的地方睡,跑到大使馆。我们所看到的,他自己用广播、用录影像,要求温家宝保证他的自由,最初是表示他绝不到外国来,他要留在中国,但是要自由;得到的消息好像他可以考虑到美国来,如果他全家都可以离开的话。
现在我只想就这件事情,讲三点意义。
请观看 : 自由亚洲电台普通话
Chen Guangcheng: Chinese Dissident Says Officials Must Face Justice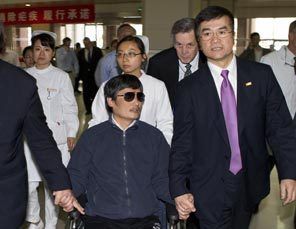 China dissident's escape "more exciting than Shawshank Redemption"
BEIJING | Mon May 7, 2012 7:08am EDT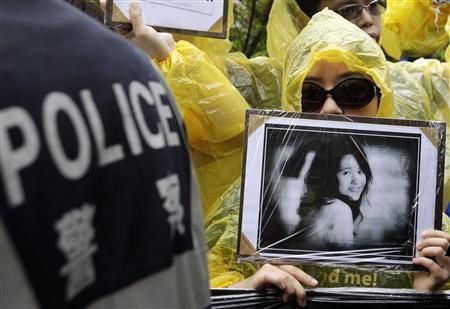 He Peirong / 何培蓉
(Reuters) - The woman who drove blind Chinese activist Chen Guangcheng to Beijing after his dramatic escape from house arrest in eastern China told how she sat down with security officers afterwards to watch the jailbreak movie, "The Shawshank Redemption".
He Peirong (何培蓉) said that five days after picking up Chen, she was taken from her home in Nanjing by state security officers "to assist with investigations". The officers interrogated her about whether she helped plan Chen's escape.
Read more : Reuters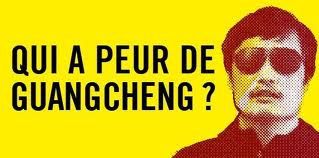 "Who's afraid of Guangcheng?" says the picture in the middle.
Link : Our Chen Guang Cheng Photo album on Facebook
Fears grow on Chen Guangcheng exile deal
MICHAEL SAINSBURY, CHINA CORRESPONDENT

May 07, 2012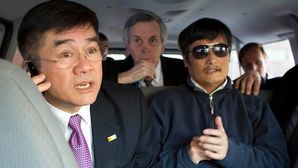 Mr Chen was waiting, under heavy guard, in Beijing's Chaoyang Hospital, where he was taken by US envoys last week after he injured himself on April 22 during his escape from home detention.
Confined by injuries and security to his bed, he said last night he had asked for Chinese officials to help him apply to go abroad.
"Now I have notified the hospital to invite them to help me do the procedures. I really don't have a way," he said by telephone.
Read the full story on The Australian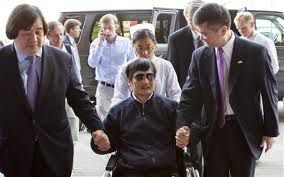 "Président Obama, aidez-moi !"
Il a choisi l'exil. L'avocat aveugle Chen Guangcheng, au cœur d'un imbroglio diplomatique entre la Chine et les Etats-Unis, réfugié à l'ambassade américaine puis "enfermé" dans un hôpital de Pékin, veut quitter son pays.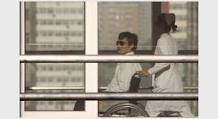 Chinese Media Call Chen a 'Tool' of U.S.
BEIJING—China's state-controlled media came out swinging on Friday against the U.S. over the Chen Guangcheng affair after more than a week of near silence, with one editorial calling the blind Chinese activist a "tool" of U.S. leaders.
Media analysts said the sudden rash of commentary represented an effort on the part of the Chinese government to reassert control over the conversation around the case of Mr. Chen, whose escape from home imprisonment has caused a diplomatic scramble between the U.S. and China. It also suggested an attempt to dent the image of the U.S. in China, even as the two countries appeared to move closer to a deal to defuse the situation.
Read more : The Wall Street Journal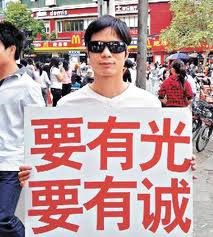 "Faut être lumineux, faut être sincère"

All the latest news on Democratic China.org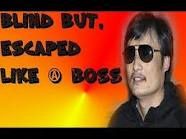 Chen Guang Cheng est un militant chinois des droits de l'homme, aveugle. Or son prénom est composé du caractère 光 qui signifie "lumière / lumineux" et du caractère 诚 qui lui veut dire "sincère / honnête".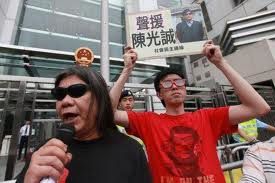 陳光誠: 有光有诚 。Chen Guang cheng : Lumineux & Sincère
Chen Guangcheng (en chinois : 陳光誠 / 陈光诚, Chén Guāngchéng ; né le 12 novembre 1971) est un militant chinois des droits de l'homme en milieu rural. Aveugle depuis l'enfance, il a appris le droit en autodidacte et a défendu la cause de femmes forcées à être stérilisées ou à avorter. Chen a été décrit par la BBC comme « l'un des plus célèbres dissidents chinois » et également comme un « avocat aux pieds nus ».
Après quatre ans et trois mois de prison ferme, il est assigné à résidence en septembre 2010. Il s'évade en avril 2012 et trouve refuge auprès de l'ambassade des États-Unis à Pékin.
Source (link) : Chen Guang cheng on Maspedia
Chen Guang cheng : Free & Truel
陈光诚邮票!! 刚在EMAIL里看到一个很好的创意: 我在网上订了一版(20张)陈光诚的头像做的邮票,面值1.04,寄中国大陆贴 一张就够了(没有0.98美元的)。因为下周末的信是写给那些迫害陈光诚的人的,是 不是考虑给他们用陈光诚头像的邮票?
Un timbre poste à l'éphigie du militant chinois des droits de l'homme
Source (link) : Blogspot
Send greetings to Chen Guang cheng
请给陈光诚发贺卡表达祝福
Envoyez une carte postale de voeux au héros du Shan Dong
Source (link) : Molihua Blog

山东临沂东师古村成了中国官民博弈的一大"战场"。盲人维权人士陈光诚出狱后,这个村庄和周围地区已经完全被警方和警方雇佣的邪恶势力所控制。各地的访民、网民、维权人士、异议人士、作家、外国记者等,陆续络绎不绝前往东师古村,他们只有一个目的,想来探访陈光诚。
Source (link) : minzhuzhongguo. org
Les Insurgés citoyens / The Global Insurrectionist

Follow us on Facebook : Appel à l'Insurrection permanente pacifiste, écologiste et citoyenne





Full support to all the good guys fighting for OCCUPY, ANONYMOUS & INDIGNADOS the world over
Follow us on Twitter : @france_nouvelle
Appel à l'Insurrection permanente, pacifiste, écologiste et citoyenne du 2 octobre 2011 (2011.10.02 Call for a peace-ecology and community oriented permanent Insurrection)
Sur Facebook/On Facebook, click here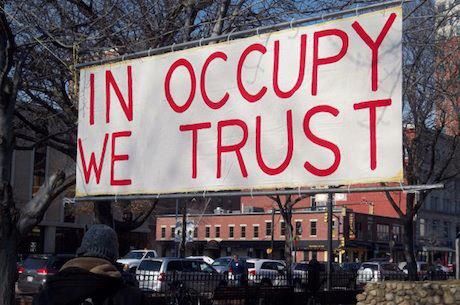 La Congrégation des Grands Insurgés citoyens de France / Famous Citizen Insurrectionists in France :