Palestine .- 64ème anniversaire de la Nakba/64th Anniversary of Al-Nakbah
Press-Review : English - 中文 - Français - Español - Italiano - Português
Follow us on Twitter : @france_nouvelle
Follow us on Facebook : The Global Insurrectionist (Les Insurgés citoyens)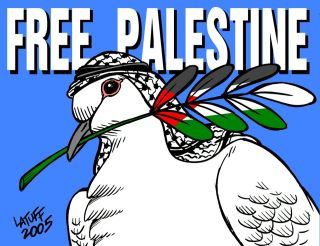 Palestine .- 64ème anniversaire de la Nakba/64th Anniversary of Al-Nakbah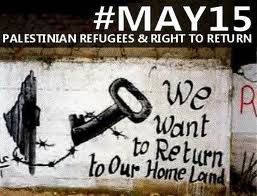 Palestinians clash with Israeli soldiers in Nakba Day protests
JERUSALEM -- Dozens of Palestinians were injured Tuesday in clashes with Israeli soldiers during the annual Nakba Day demonstrations held in Israel, the West Bank and Gaza Strip to mark the 1948 displacement of 800,000 Arabs during Israel's founding.
Thousands of Palestinians turned out to protest in Jerusalem, Ramallah, Gaza City and other cities to mark the nakba -- Arabic for catastrophe. Most of the demonstrations were peaceful, but clashes erupted between rock-throwing youths and Israeli soldiers at a checkpoint in East Jerusalem, in Hebron, and outside the Ofer prison facility near Ramallah (...)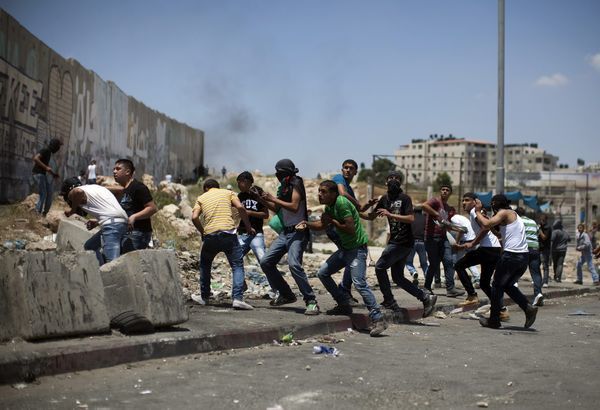 巴勒斯坦数千人"灾难日"与以军爆发冲突20人受伤
新华网加沙5月15日电(记者吕迎旭 陈序)巴勒斯坦15日迎来第64个"灾难日",数千名巴勒斯坦人举行游行集会等纪念活动,并与以军爆发冲突,造成20多名巴人受伤。
在约旦河西岸,巴民族权力机构宣布15日放假一天。当天中午,人们举着象征回归权的钥匙模型和巴勒斯坦国旗在拉姆安拉市中心举行集会。巴过渡政府总理法耶兹参加了集会。
在位于拉姆安拉和耶路撒冷之间的卡兰迪亚检查站和关押巴勒斯坦人的欧法尔监狱前,巴勒斯坦青年和以军当天爆发冲突,造成20多名巴人受伤。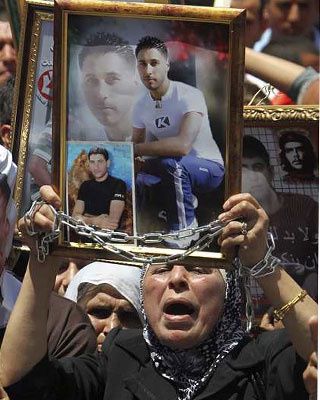 Une vingtaine de blessés palestiniens lors de l'anniversaire de la "Nakba"
Une vingtaine de Palestiniens ont été blessés mardi lors de heurts avec les forces israéliennes pour les manifestations de la "Nakba" commémorant la création d'Israël il y a 64 ans et l'exode de 760.000 Palestiniens, selon des sources médicales.
7sur7.be Français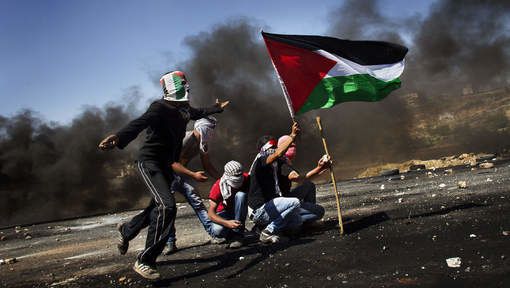 La "nakba" del pueblo palestino recuerda la ocupación israelí
El gobierno de Israel ha llegado a un acuerdo con 1.600 presos, que iniciaron una huelga de hambre, y devolverá un centenar de cadáveres a familias palestinas
Los palestinos recuerdan este martes el día de la "nakba" (catástrofe) para recordar sus 64 años de exilio y la desposesión de su tierra por la ocupación israelí. Están convocadas manifestaciones en Israel y en los territorios ocupados de Cisjordania y Gaza y algunos países árabes vecinos. En ellas se verán carteles negros, que recuerdan la huida la expulsión de sus hogares en el actual Israel, y las banderas palestinas para recordar a los 750.000 palestinos expulsados entre 1947 y 1949 (...)
Publico.es Español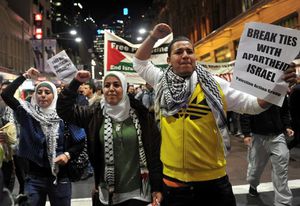 La protesta dei palestinesi nel giorno della Nakba
Il 15 maggio, data della fondazione di Israele, per i palestinesi è la "Catastrofe". Oltre alla lotta dei detenuti politici manifestazioni in Galilea e nei Territori occupati.
l 15 maggio non sarà mai una data come le altre per i palestinesi. E le iniziative ad essa collegate non saranno mai rituali. Il 15 maggio 1948, giorno della fondazione di Israele, per i palestinesi è la Nakba, la «catastrofe», la perdita della terra e l'esilio di centinaia di migliaia di profughi (oggi oltre 5 milioni) che a distanza di 64 anni chiedono di poter tornare nella loro terra d'origine. E' la memoria collettiva di un intero popolo. E lo sciopero della fame nelle carceri israeliane di 1600 prigionieri politici (su circa 5mila) - contro la detenzione amministrativa - quest'anno si aggiunge al bagaglio di prove che i palestinesi affrontano da sempre (...)
Globalist.it Italiano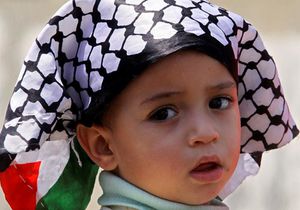 Palestinos pedem que o mundo "pague sua dívida histórica" pela Nakba"
Há 64 anos, a vibrante sociedade e a rica cultura de uma nação foi forçada ao exílio e à expulsão em massa", disse porta-voz da OLP.
Os palestinos reivindicaram nesta terça-feira (15/05) que a comunidade internacional "pague sua dívida histórica" com este povo por conta da Nakba (catástrofe). O episódio, que nesta terça completa 64 anos, causou o êxodo de pelo menos 750 mil palestinos entre 1947 e 1949, resultando na criação de Israel (...)
Operamundi Português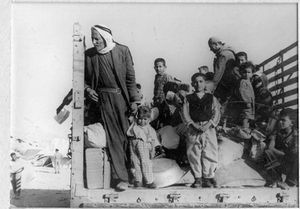 Exode palestinien de 1948
Réfugiés palestiniens lors de l'exode de 1948.
L'exode palestinien de 1948 – commémoré comme la Nakba (arabe: an-Nakbah, lit. « désastre » ou « catastrophe ») – fait référence à l'exode de la population arabe palestinienne qui se produisit pendant la période que les historiens nomment guerre de Palestine de 1948 et qui couvre les six derniers mois du mandat britannique de Palestine et la première guerre israélo-arabe.
Durant ce conflit, entre 700 000 et 750 000 Arabes palestiniens quittèrent ou furent expulsés de leurs villes et villages et se virent refuser tout droit au retour sur leurs terres tant pendant qu'après le conflit.
Les historiographies israélienne et occidentale ont longtemps gommé ces événements tandis que les Palestiniens y ont toujours fait référence en tant qu'al-Nakba (également orthographié Naqba) : la « catastrophe ».
La suite : Wikipédia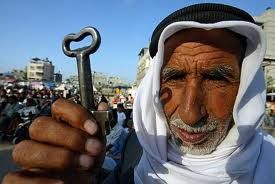 Noam Chomsky: Palestinian Hunger Strike a Protest Against "Violations of Elementary Human Rights"
We begin our hour-long interview with world-renowned political dissident, linguist and author Noam Chomsky by discussing the Palestinian hunger strike. A tentative deal has reportedly been reached to end a landmark action that's seen an estimated 2,000 jailed Palestinians go without food to pressure Israeli prison authorities to end the use of solitary confinement and ease a wide range of restrictions. "The hunger strikes are a protest against ... violations of the elementary human rights," Chomsky says. He is Professor Emeritus at Massachusetts Institute of Technology and author of dozens of books, most recently, "Occupy." [includes rush transcript]
Watch the video : Democracynow.org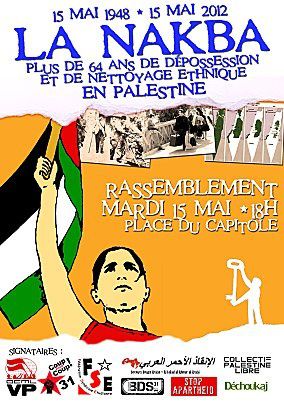 64e anniversaire de la Nakba
Des Montréalais font la grève de la faim
Agence QMI
Sarra Guerchani
13/05/2012 19h17
MONTRÉAL – La diaspora palestinienne de Montréal s'est rassemblée dimanche pour commémorer le 64e anniversaire de la « Nakba ». Ce terme est utilisé par les Arabes pour désigner la «catastrophe» que représente, à leurs yeux, la création de l'État israélien.
«Le monde ne donne pas assez d'importance à ce qui se passe en Palestine», selon Ehab Loteif, un Palestinien qui fait la grève de la faim, ici, à Montréal. Cette commémoration et son jeûne volontaire sont particulièrement symboliques pour celui qui avait été emprisonné durant six jours par l'armée israélienne l'an dernier avec 24 concitoyens durant la mission humanitaire «un bateau pour Gaza».
«Je soutiens Taer Hallaleh et Bilal Diab qui, au risque de leur vie, entament aujourd'hui (dimanche) leur 75e journée de grève de la faim pour protester contre leur détention administrative», a-t-il ajouté.
Ces deux Palestiniens sont détenus par les Israéliens depuis plusieurs mois et sans avoir été accusés d'un crime.
Plus d'une centaine de Montréalais venant de plusieurs pays du monde arabe, comme la Syrie, l'Égypte ou encore la Tunisie étaient présents pour soutenir Thaer Halaleh, 33 ans et Bilal Diab, 27 ans.
Source : Canoë.ca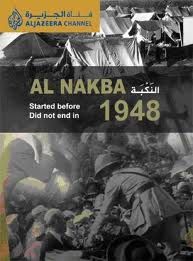 Fin de la grève de la faim collective pour un millier de détenus palestiniens
Un accord a été trouvé entre les autorités pénitentiaires et les détenus palestiniens d'Israël en grève de la faim. Israël a accédé aux revendications des prisonniers qui se sont engagés à "s'abstenir de tout acte de terrorisme".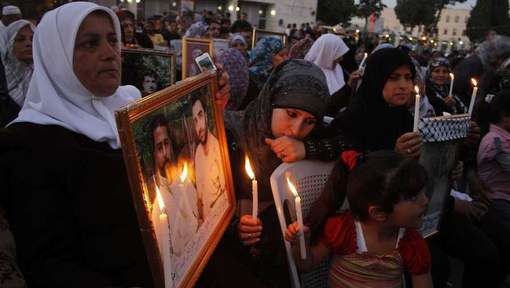 Top 10 Facts You Probably Didn't Know About the #Nakba
1. Nakba is the Arabic word for catastrophe. It is used to describe the Palestinian loss of land and property during the depopulation of Palestine from 1947-1949 and does not refer simply to the declaration of a state of Israel.
Residents of Yaffa Pushed Into The Sea Prior to May15th, 1948
2. 212 localities depopulated and at least half of the refugees created during the Nakba were created prior to May 15th, which is, prior to the entry of armies of other Arab states. The largest Palestinian cities at the time, Yaffa and Haifa, were emptied of the vast majority of their inhabitants before May 15th, 1948. The idea that refugee creation happened only after, or only as a result of, the mobilization of Arab armies is patently false.
3. At every stage of the war, the Yishuv/Israeli forces were superior in training, equipment and numbers to the combined Arab armies.
All That Remains of a Village Near Beisan
4. The Zionists prepared extensive data collection efforts to map out intelligence relating to the Palestinian villages for a decade prior to the war. Detailed information about each village was kept including information on the number of inhabitants, the village's resources, the potential activists that resided within it and what its political affiliations were.
5. Of the over 500 Palestinian villages depopulated during the Nakba, 303 were depopulated as a result of either direct expulsion carried out by Yishuv/Israeli forces or as a result of attack by Yishuv/Israel forces.
6. Of the depopulated villages, 81 have been completely obliterated which means there is no traceable sign of their existence. Rubble was identified at the site of another 140 villages. Some standing walls were apparent at another 60 villages while 74 more had few houses intact. Other villages had houses intact and occupied by Israelis.
7. Golda Meir struck a secret agreement with the King of Jordan before the war. Even though Jordan's Arab Legion was the most formidable of the Arab armies, and even though the massacre at Deir Yassin tested this agreement, the Jordanian forces didn't cross into territory that was designated for the Jewish State under the UN partition plan.
Palestinians Expelled During Operation Dani Recalled by Rabin
8. After the depopulation of towns and villages, rampant looting of personal property took place. Israeli civilians and soldiers took part in stealing from vacated Palestinian homes and shops. Israeli historian Tom Segev notes that 1,800 trucks were taken from the town of Lydda alone.
9. While 700-800,000 Palestinians were made refugees and not permitted to return by the state of Israel, 150,000 did remain inside Israel and many became internally displaced persons who still lost their property and were subjected to martial law until 1966 and various discriminatory laws since then.
10. Yitzhak Rabin, an officer during the 1948 war, included a description of orders to forcibly expel tens of thousands of Palestinian civilians in his memoirs. The State of Israel prevented this description from being printed when his memoirs were published and, as far as I am aware, continues to prevent it today.
Read more : Blog.TheJerusalemFund.org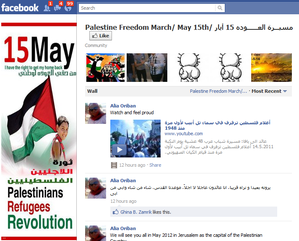 Les Insurgés citoyens / The Global Insurrectionist
Follow us on Facebook : Appel à l'Insurrection permanente pacifiste, écologiste et citoyenne





Full support to all the good guys fighting for OCCUPY, ANONYMOUS & INDIGNADOS the world over
Follow us on Twitter : @france_nouvelle
Appel à l'Insurrection permanente, pacifiste, écologiste et citoyenne du 2 octobre 2011 (2011.10.02 Call for a peace-ecology and community oriented permanent Insurrection)
Sur Facebook/On Facebook, click here