西藏自由 - Free Tibet : Information - Misinformation - Desinformation !

Orgyen Trinley Dorje, True Karmapa !
Forget the corrupt medias, for true news about #Tibet & #Tibetan#Independence #Follow @tibettruth & Visit http://tibettruth.com#TrueTIBET
Tibet .- Information - Misinformation - Desinformation.
Ain't an easy job to keep in touch properly with the Tibetan Issue while not being mislead one way or the other at any time ! Not only are there around a couple of Panchen-Lama (second highest spiritual leader in the tibetan buddhist hierarchy) but, more than that, there are two different Karmapa (another spiritual leader but not a yellow hat!).
Jesus Christ ! How can one manage to know what is true or wrong, what is a lie or just misinformation instead of gross desinformation.
Well, here below a late exemple as shown by the publication of a news in a Taiwan newspaper on May 4, 2012.

Tibetan spiritual leader currently visiting Taiwan
TAIPEI--The 17th Gyalwa Karmapa Trinley Thaye Dorjes, the spiritual leader of the Karma Kagyu sect of Tibetan Buddhism, is currently in Taiwan to take part in a series of religious events.
In a news conference held Wednesday in Taipei, the Karmapa said he is very happy to be able to visit Taiwan again and hopes to have more contact with his followers here.
He also said he will give his blessings to the country through the events scheduled to take place in northern, central and southern Taiwan.
The Karmapa, who arrived April 30, will stay for 19 days as part of a 180-day religious tour of the world.
According to the Karma Kagyu Buddhist Association, which organized the visit, the religious leader has no plans to take part in any other activities besides the religious events.
This is the Karmapa's third visit to Taiwan. He first visited in November 1999, during which he held religious rituals for the victims of the 7.3-magnitude earthquake that hit the country Sept. 21 that year.
Updated Friday, May 4, 2012 1:28 pm TWN, CNA
Source (link) The China Post - Taiwan

True Karmapa of Tibet, Orgyen Trinley Dorje
Tweet that we got after retweeting the news from our Twitter account :
From @Tibet_TW: "This is NOT real Karmapa, Dalai Lama & Tibetan approved Karmapa is Orgyen Trinley Dorjehttp://www.kagyu.org/ #Taiwan #Tibet #ROC @IamMinder"

Tibet support groups such as Tibet Truth, Rangzen and the like are very useful in this respect. And we have to be thanksfull to them all. They're doing a fantastic job indeed.

Therefore, one has to keep in mind that "Trinley Thaye Dorje" is some sort of fake Karmapa or fake spiritual leader of the Karma - Kagyü Sect (not yellow hat, remember!) but that Orgyen Trinley Dorje is the right one !
We'rer lucky as we met the right one, "Orgyen", in Dharamsala (India) upon His (holly) arrival when HE escaped His monastery in occupied Tibet. And consequently we know quite well how the guy looks. And HE looks God damned great !!! HE's really a nice fellow.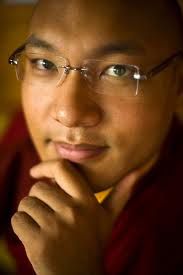 Precious Links : True Karmapa on Facebook & 17th Gyalwang Karmapa Official Site